We're not the new kids on the block anymore.
By "we" I mean Portland brewers, and as such, the "we" is a bit of a stretch. I'm a mere homebrewer, not a pro. The ones with mortgages on the line are the ones I really mean here.
What brings this about is a press release and accompanying graphics for an old friend. An old friend, that is, with a new name, and a new face. MacTarnahan's Brewing Company, née Portland Brewing, who will celebrate their coming of legal age - 21 years – with a party ("Mac's Madness") this Wednesday at 5 PM in the taproom.
At the party, they'll "reintroduce" MacTarnahan's Amber Ale (also born with a different name – it was a "Scottish Ale" in its youth). If you find this old sawhorse in the stores, you'll notice it has a new label. Gone are the green tartans of yesteryear. Here today is a crisp, clean, modern look – market-researched to connote maturity, combined with a sense of modernity. We're big boys now, the label says, not those upstarts brewing out of the back of a basement. You can rely on us now.
Indeed, you can. Mac's is a reliably decent beer, one that will provide a full-bodied, nutty caramel flavor and a gentle dose of hops. Not a tongue-ripping Northwest IPA, nor a body-building bock; just a nice, clean, reliable amber. Good for a cookout, or a cool-down on a spring afternoon once the gardening's done.
The new image is consistent with the trend of its companions around the state. Take, for example, Full Sail and Deschutes. I pulled a couple of bottles from my stash recently. Here's what they used to look like: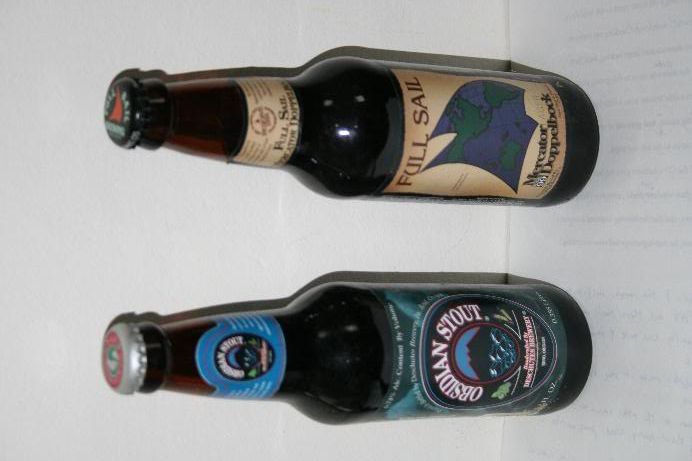 And now, the current packaging:
Apologies for the Mercator-to-Amber switch on Full Sail... I don't have a direct comparable label, but the old ones were as similar to each other as the new ones are, so I think you get the picture.
And that picture is: We're serious about brewing in Oregon now. We're not the brash kids, decorating our labels with cute graphics that make you curious. We're presentable. We want to be served at the symphony as well as the barbecue.
So, to whom goeth the job of the brash, young brewer, yearning to stand amongst the crowded shelves?
Is that not Oregon's place in the beer firmament any longer?