Today I tackled a project I've been meaning to get to for a very long time: mounting my Valley Mill in its own permanent home in my brewery.
The Valley Mill
is a two-roller mill with a 6-pound grain hopper that's been on the market a good ten or so years. I got mine in 1997 and added a motor to it about a year later. The problem is, setting up the mill was a minor chore every brew day, and I didn't have a great place for it. I've long wanted to mount it to a table with a chute straight into my mash tun, saving setup, put-away, and transfer steps.
My chance came, oddly enough, when my old yard-sale-purchased tablesaw gave out. Actually this happened a few years ago. It took me this long to get around to taking advantage of the situation. But once I got started, it didn't really take that long.
Here's the table, with the saw removed. Notice the table already had a rectangular hole in it, where the saw had been mounted; the band had run through the gap to the high-speed motor mounted on the lower shelf.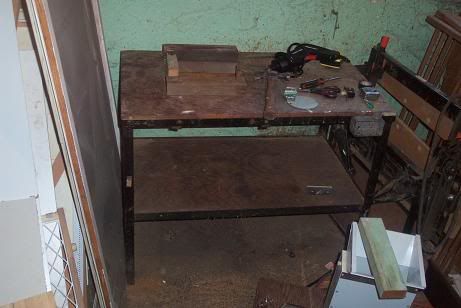 The two-by-four pieces are there to elevate the mill to the proper height to take advantage of my motor. Rather than a belt-drive method, I opted for direct drive. More on that later.
I built a little box of two-bys and a bit of plywood and mounted the mill directly on top, using the thumbscrews that came with the mill.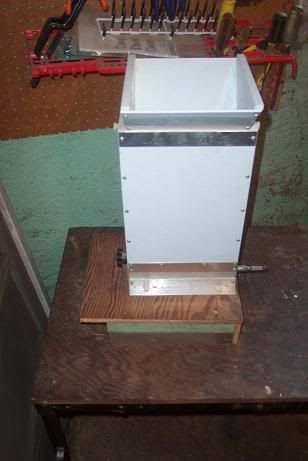 This fitting came with the mill, too. It's intended for use with a hand-held drill, but with the help of a good friend of mine, we fitted a motor to it.
Here's how the mill attaches to the motor. You can see how creative we got with the parts. Where all these bits and pieces originally came from, I couldn't tell you.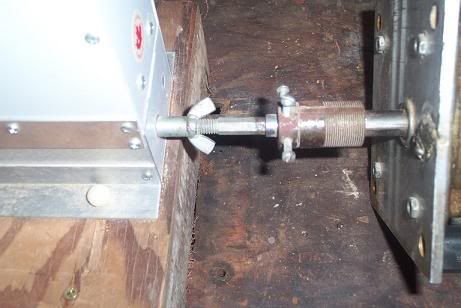 Next I mounted the 100 RPM motor to the table with 1" bolts. It's situated so that it's permanently attached to the fitting on the mill now. That's a bonus, too, as in my old setup, the motor often jiggled loose, causing further delay.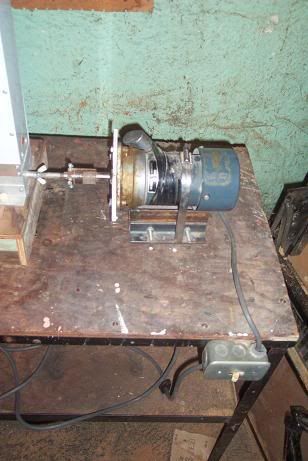 Then I attached the motor's power cord to a switch mounted on the side of the table (re-used from the tablesaw and moved to a more convenient location). Another improvement from the in-line switch formerly used, which always gave me fears of electrocution.
The final task was figuring out where to put the darned thing. It couldn't stay in my woodshop. I found a space in my brewing cellar, near where I keep my grains and my finished, cellaring beer, and voila! I am ready for brew day!